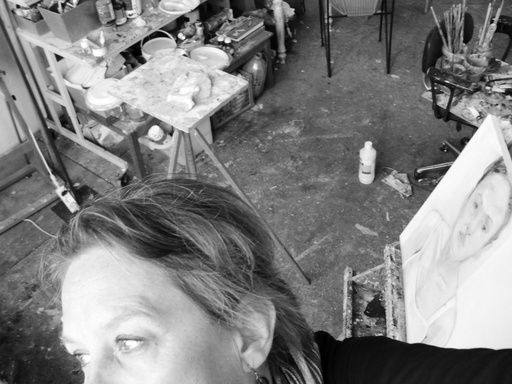 IRENE VAN DEN BOS
Velsen, 1953
Studio:
Fortlaan 9
Bussum ( oude Emmaschool )
The Netherlands
Private:
Mierenmeent 41
1218 EH Hilversum
The Netherlands
Telephone:
+31356934239 / +31614340172
E-mail:
KvK:
32133640/IRENEART
Education:
1972-1973 Art & Textile, Gerrit Rietveld Academie, Amsterdam
1974 Education Teacher in Arts, Pedagogische Academie, Haarlem
1990-1996 Cultural Studies, Open University The Netherlands, Heerlen
Biography:
As of 2008 I have regular exhibitions in the Singer Museum in Laren with artist association Laren Blaricum. I have also participated in art fairs and manifestations such as Kunstmaand Ameland, Huntenkunst, ArtArnhem and LekArt.
My works are in stock at:
Galerie Kunst + Co, Amstelveen
Galerie Archipel, Amersfoort
Saatchi Art, Santa Monica, California (USA) (digital gallery)
28th of January 2016: Artist of the Day, nominated by curator Rebecca Wilson in New Contemporary Portraits
The Carlos Reid Gallery, Jupiter, Florida (USA) (digital gallery)
Galerie Adorable Art+Design, Den Haag
Exhibitions:
2017: KunstRai Amsterdam bij Galerie Adorable, Den Haag.
2017: Galerie De Stoker, Witte de Withstraat 124, Amsterdam. solo. Face to Face.
2017: Singer Musuem Laren. Kleurrijk. groepstentoonstelling.
2016: Pulchri Studio, Den Haag, Refugee Art: Perception and Reality (upcoming)
2016: Pulchri Studio, Den Haag, Voorjaarssalon
2016: Kunstenhuis, Harelbeke (Belgium)
2015: Pulchri, Den Haag, solo exhibition
2014: Art Arnhem, Art Fair
2014: Lucebert Festival, Naarden Vesting
2014: GSA Galerie, Hilversum
2014: Museum Hilversum, Hilversum
2014: Odeon Theater, Zwolle
2014: Gereformeerde Hogeschool, Zwolle
2013: Pulchri Studio, Den Haag
2013: Pulchri Studio, Den Haag
2013: Huntenkunst, Ulft
2013: Singer Museum, Laren
2013: Blokhuispoort, Leeuwarden
2012: ArtTraverse, Bilthoven
2012: Galerie Arte Temporale, Bussum
2012: Huntenkunst, Ulft
2012: Pulchri Studio, Den Haag
2012: GSA Galerie, Hilversum
2012: Kunstmaand Ameland
2012: Galerie RudolfV, Amsterdam
2011: Singer Museum, Laren
2011: Huntenkunst, Doetinchem
2011: Galerie Manna, Brugge (Belgium)
2011: Galerie III, Bussum
2011: Galerie KNH, Haarlem
2011: Van der Steenhoven Advocaten, Amsterdam
2011: Galerie Jan Eikenaar, Burgh-Haamstede
2011: AyrSpace Gallery, Ontario (Canada)
2011: Amsterdam Art Fair, Amsterdam
2010: Museum Hilversum, Hilversum
2010: Hilton Hotel, Stockholm (Sweden)
2010: Galerie RudolfV, Amsterdam
2010: Pulitzer Hotel, Amsterdam
2010: GSA Galerie, Hilversum
2010: Kunstmoment, Diepenheim
2010: Galerie Abundance, Den Haag
2010: Galerie III, Bussum
2010: Huizer Museum, Huizen
2009: Art Gallery Colline Verte, Borgloon (Belgium)
2009: Singer Museum, Laren
2009: Museum Hilversum, Hilversum
2008: Galerie Gelderland, Arnhem
2008: Galerie Peter Leen, Breukelen
2007: Kunstmaand Ameland
2007: Singer Museum, Laren
2005: Singer Museum, Laren
2004: LekArt, Culemborg
2004: Museum Catharijneconvent, Utrecht
2003: Domkerk, Utrecht
2002: Noorderkerk, Amsterdam